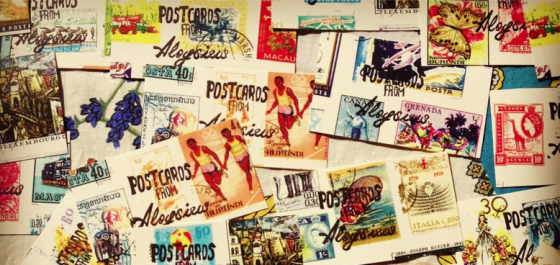 This month, The Works Glebe is proud to introduce our latest label to join our ever-expanding group of local talent- Postcards from Aloysius.
Postcards from Aloysius is a Bondi-based jewellery label that celebrates the humble postage stamp. The creator, Helen Hadfield, is a designer, a self-confessed philatelist and a lover for all things colourful, historical and illustrative. She creates jewels out of new and used postage stamps from around the world. The context of the stamps are documented in each unique piece of jewellery, with a typed description done on typewriter telling the receiver the country of origin, the year of issue and depiction of the art work.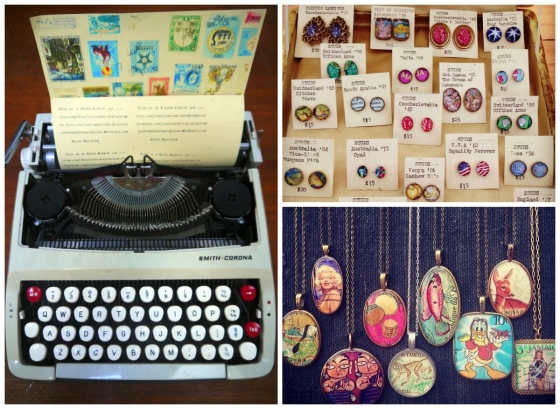 Helen says of her work, "Stamp collecting used to be the largest hobby in the world, with fellow philatelists including John Lennon, Queen Elizabeth II and Charlie Chaplin (all of which have featured on a Postcards from Aloysius jewel or two!). I frequently have people visit my market stall at Glebe and either tell me about the collection they've inherited or, whispering as not to be heard by too many passers by, that they too are an enthused philatelist. This always makes me smile, like they are sharing a secret with me that their friends do not know."
The best part of the job? "My favourite part of what I do is creating commission jewels for individuals. There is a stamp for everybody, and with an archive of around 50,000 I have plenty to choose from with any subject you can think of. I love a challenge."
To get in contact with Helen and Postcards from Aloysius check out their website www.postcardsfromaloysius.com or connect with them on Facebook